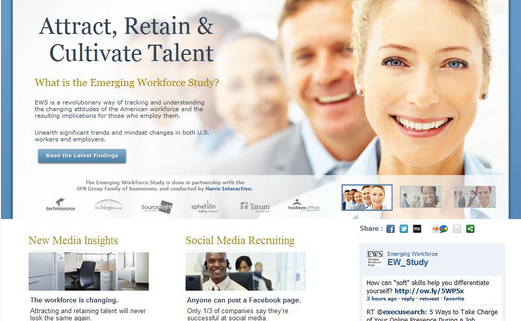 A series of packaged workforce studies, branded "The Emerging Workforce" has transformed this company's public image to one that is aligned with its current business mix, and served as the platform for Spherion's award-winning social media campaigns and $12 million annual ad-value P.R. coverage over the last ten years.
View Emerging Workforce Website
Challenge. Spherion Corporation was expanding from a staffing organization (formerly Interim Services) to a comprehensive workforce solutions provider and needed to expand its perceived brand value to command higher profit margins consistent with its new business mix.
Solution. We created a series of American workforce studies to position SFN Group as an expert on attracting, hiring and retaining full-time talent across all industries. The program began in 1997 and today is still the cornerstone of the company's marketing and public relations programs. Coined the "Spherion Emerging Workforce Study," the program became a brand with tremendous equity in and of itself, with applications across the enterprise as well as the organization's eight specialty brands — generating a tremendous return on investment.
Results. Transformed brand identity of company, externally and internally
2,500 Facebook "fans"
1,435 Twitter followers & online coverage
2,914 Web visits & 5,828 page views
Survey banner ads yielded click through of 1.89% vs. avg.
Monster click through of 0.36%
1,000 press articles with comparative ad value of $12 million, surpassing all of its national competitors
Fortune, BusinessWeek, USA Today, Wall Street Journal
75 C-level one-on-one meetings in its first year of release
–Deloitte & Touche, Dell, IBM, Mattel, Office
Depot, Global Health Sciences, Bass, Sun Microsystems
300 corporate client seminars and speaking engagements, countless field engagements
$23 million from new business development briefings
DETAILS
Client
Spherion Staffing
Service
Thought leadership marketing
Public relations
Social media
Direct & digital marketing
Events marketing
Speaking engagements
Business development briefings